The most secure key safe solution
Providing you with trusted, secure & sustainable technology to ensure confidence and peace of mind with your property and access.
WHAT IS SENTRIKEY®
What is SentriKey®
The only electronic key safe with a key pad for one off emergency access. The tried and tested patented technology of SentriKey® utilises an easy to use app, allowing access for authorised users only and removing the code management security issues of a mechanical key safe.
It's more than just a key safe...
The SentriKey® electronic lockbox is a secure storage device that is easily fixed to the outside of the premises. It comes with a unique software platform and App providing safe and controllable access from anywhere.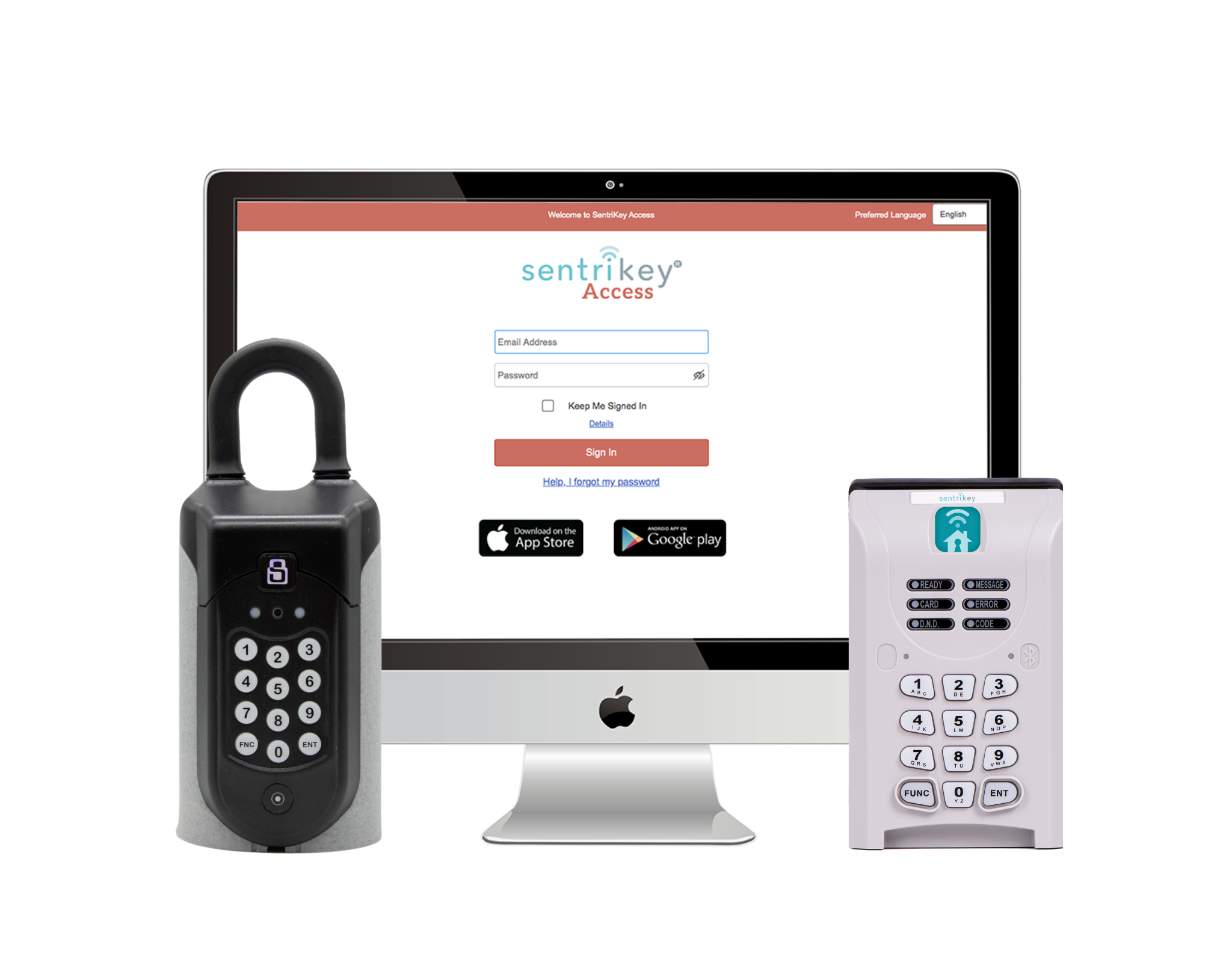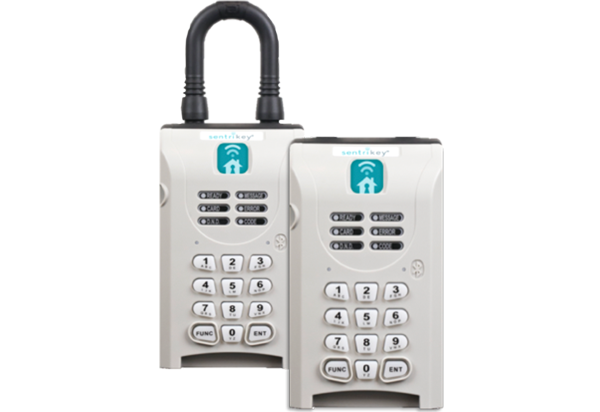 SentriKey® Lockbox
The UK's most secure key safe designed to be mounted directly to a building or other secure structures allowing secure access for multiple approved users with a key code facility. 
Securest lockbox in the UK
A reliable and secure lockbox that provides a weather tested design and toughest security testing giving a long lasting lifespan.
Bluetooth Connected
The SentriKey® lockbox features bluetooth technology that connects to the app and allows you instant access.
Customer Focused Design
The lockbox features a jam-free large front opening key compartment, an illuminated keypad and removable hasp.
Audit Usage & Notifications
The lockbox provides a full audit trail of access allowing you to know who has visited a property, when they attended and how long they stayed. SMS notification service can be enabled to give the owner peace of mind of delivery of service and attendance. 
Asset Management
The SentriKey® lockbox provides an online system for allocating lockboxes to properties allowing full visibility of all lockbox locations.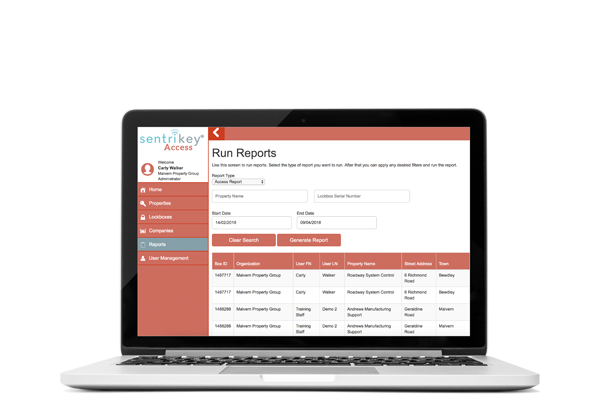 SentriKey® Access
Our cloud-based platform provides real time user management, transparency and traceability as well as full auditable access data with full access history, in real time.
Full Access History
All access information is captured, recorded and saved within the platform. 
Approved Users
Only users, approved by you are able to access a key safe. SentriKey enables remote real time user management to ensure security and business continuity are maintained.
Flexible One Day Codes
From the platform you are able to grant flexible, traceable one off codes for access to give to approved individuals for emergency access. 
Generate Reports
The SentriKey Access platform allows the generation and download of multiple real time reports including full access history of individuals or property access.
Locate & Manage Assets
The locator within the lockbox allows you to see a visual representation of location to enable operational efficiencies such as effective route planning and management of key safes in use or not active.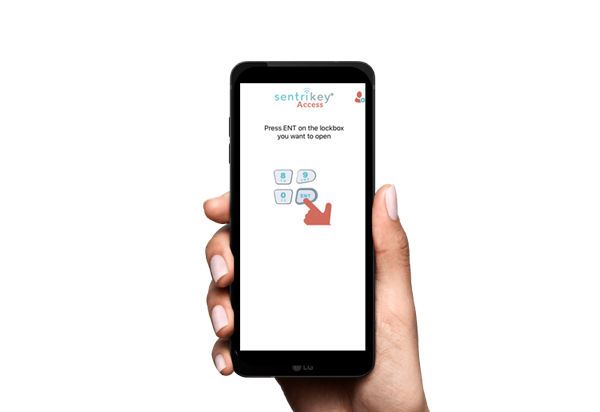 SentriKey® App
The SentriKey® app provides only approved users with secure access. The app is supported by both iOS and Android mobile users and developed to enhance user experience.
Notes & Photos
Log information and photos on site to include reports, record any issues to be addressed or to provide service verification.
Missing Key Report
End users can report missing keys via the app, updating the platform in real time. The platform can then provide a full audit trail of key management enabling traceability of missing keys.
Safest Monitor
Our interactive safety monitor aids in lone working situations to ensure employees are safeguarded while carrying out duties, alone and in remote areas.
Real Time Notifications
Receive real time SMS or Email notifications when access has both started and ended. 
Open Lockboxes
Use your smartphone or tablet to open the lockboxes directly from the app. Providing a means of access without any other device.
Providing Solutions for Keyholding Industries
To see more - swipe left & right
The SentriKey® system runs in the cloud as you get on with running your business.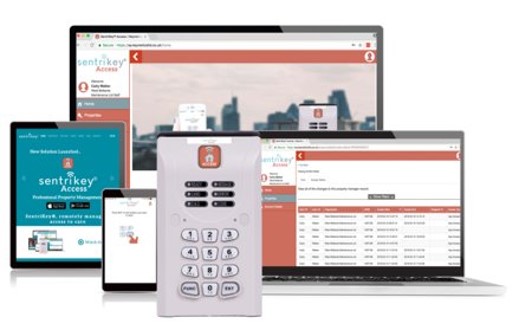 GET IN TOUCH
If you are interested in seeing more on how Keynetics can help your business run more efficiently and securely with SentriKey® then please do get in touch.
REGISTERED OFFICE:
Keynetics Ltd, Malvern Hills Science Park,
Geraldine Road, Malvern WR14 3SZ
Office Hours: Monday to Friday 09:00 - 17:30