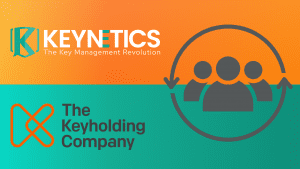 Keynetics have partnered with The Keyholding Company, to deliver the benefits of our SentriKey® electronic lockbox to clients looking to rethink the traditional model of keyholding and access services. As the UK's leading tech-enabled mobile security specialists, The Keyholding Company is the go-to provider for clients such as ISS, Mitie, Secom, Corps Security, Next and many more, for services like keyholding, alarm response and mobile security patrols.
The SentriKey® key safe will be available as part of The Keyholding Company's new Smart Access service, which is shaking up the keyholding and access services market by replacing external keyholders with cloud-enabled smart locks and app-based keys, saving clients up to 93% on their access services costs.
Impressed by the precise design and exceptional security accreditation of our SentriKey® key safe, The Keyholding Company approached the Keynetics team to incorporate our solution into their service. The result is a robust smart lock solution that is tailored to businesses, enabling an integrated alarm response service which removes the need for external keyholders.
"This partnership is perfect for clients looking for smarter, more cost-effective ways to manage keyholding and alarm response. Our alarm response officers can now go directly to site and use our mobile app to open the lockbox." – Charlie Gordon Lennox, CEO, The Keyholding Company
SentriKey® provides The Keyholding Company's clients with an accessible price point for Bluetooth-enabled access management and alarm response. By providing keys at the point of need, SentriKey®  reduces alarm response times and carbon emissions from unnecessary detours to key vaults. What's more, contractors can be assigned access rights without the need to send a keyholder to open up.
Unique one-day access codes for the SentriKey® key safe are available directly through The Keyholding Company's mobile key app and Smart Security Platform, providing clients with improved flexibility, efficiency and control.
"We are thrilled to be joining forces with The Keyholding Company who are renowned for being at the forefront of developing smarter, tech-led security solutions. Our highly accredited SentriKey® lockbox combined with their expert mobile security services has the power to become a real game-changer for the industry." – Stuart Wheeler, Managing Director, Keynetics
For more information about SentriKey®, book a demo with our team today.